Florence Griffith Joyner
Born To Run
---
---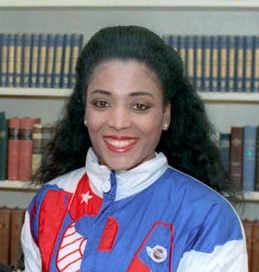 Griffith Joyner was born Delorez Florence Griffith, the seventh of 11 children. Her father worked as an electrical contractor, and her mother was a teacher. At age 4, her mother, also named Florence Griffith, left her husband and the house in California's Mojave Desert, taking the kids to live in a public housing project in the impoverished Watts neighborhood of Los Angeles.
---
---
Griffith Joyner's mother later told Pete Axthelm and Pamela Abramson in Newsweek, "We had nothing. But I explained to the children that life was like a baby. A baby comes into the world without anything. Then it starts crawling, then it stands up. Then it takes its first step and starts walking. When we moved into the project I told them, 'Start walking.'"
Florence Griffith Joyner
Griffith Joyner began racing competitively at age seven. She also developed an interest in fashion that would become her trademark. Once her unusual style got her into trouble; she was kicked out of a shopping mall for wearing her boa constrictor pet as an accessory.
On visits to the desert, where her father still lived, she kept in shape for running by chasing jackrabbits. She actually managed to catch one or two, she recalled.
The elder Florence Griffith kept her family together with strict rules and weekly family meetings she called "powwows." At these gatherings, the mother and her children would reflect on the events of the week and use stories from the Bible as examples for how they could improve themselves. Griffith Joyner studied the Bible and prayed through adulthood. She credited her mother for keeping all her children away from the drugs and violence that ruined the lives of many of their neighbors. "We didn't know how poor we were," Griffith Joyner told Newsweek. "We were rich as a family."
Additional topics