Michael Jordan
Cut From His High School Team
---
---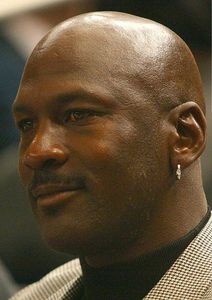 Michael Jeffrey Jordan was born in Brooklyn, New York in 1963. He was the youngest of four boys born to James and Deloris Jordan. James Jordan was the son of a share cropper from rural North Carolina, and he was in Brooklyn to attend a school that trained employees of General Electric. Jordan's mother, Deloris, was a homemaker until her children were old enough to attend school, and then she became a bank clerk.
---
---
When Jordan was about seven years old, in 1970, his family moved to Wilmington, North Carolina, the town he would later consider to be his hometown. He began playing basketball at an early age, often with his older
Michael Jordan
brother Larry. "When I was younger," Jordan said on his Web site, "my motivation came from wanting to beat my brother. This inspired my extremely competitive nature."
As a freshman in high school, Jordan joined his school basketball team. It was on his high school team that Jordan chose the jersey number he was later to make famous as a pro, number 23. When later asked why he chose that number, he replied to the Associated Press, "I wanted to wear No. 45 in high school, but my older brother (Larry) wore that number. So I decided to go with half of 45, which is actually 22½." Jordan at first had trouble standing out on the school team. In fact, only a year after joining the team, as a tenth grader, he was cut from the varsity team. But this only pushed him to work harder at perfecting his game. As he later said on his Web site, "I think that not making the Varsity team drove me to really work at my game, and also taught me that if you set goals, and work hard to achieve them—the hard work can pay off."
Additional topics