Kareem Abdul-Jabbar
Family Life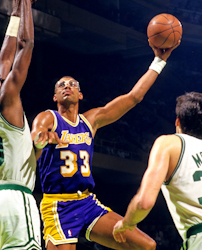 Soon after the Bucks won the NBA championship in 1971, Jabbar donned the white robes of a Muslim groom for his wedding to Janice Brown. In recognition of her new life with Jabbar, Brown adopted the Muslim name Habiba. Jabbar, who was known professionally as Lew Alcindor during his first two seasons with the Bucks, changed his name legally to Kareem Abdul-Jabbar at that time.
The ceremony, which took place in Washington, D.C, was held at dawn, according to Muslim custom. When mosque officials refused to allow Jabbar's parents to wit ness
Kareem Abdul-Jabbar, right
the ceremony because of their Catholic faith they were understandably offended. They had traveled all the way from New York to see their only child get married, and the incident caused a serious rift between the Alcindors and their son. Jabbar felt badly; he had not been told until after the ceremony that his parents were barred from entering the mosque. The rift between him and his parents was slow to heal, and nearly ten years passed before he made amends with his family. After that time Jabbar always made sure to point to the camera and say, "Hi to Moms and Pops in New York," whenever he appeared on national television. His marriage to Habiba, however, did not fare as well, and the couple was divorced in 1977.
Jabbar spent the summer of 1972 at Harvard studying the Arabic language, and that year Habiba gave birth to the couple's first child, a daughter also named Habiba. Jabbar, who was raised as an only child, had difficulty conforming his life to accommodate a significant other person and a child. The union between Jabbar and his wife had weakened early in the marriage. He and Habiba separated permanently in December of 1973.
Separation notwithstanding, Jabbar and his wife remained close with one another. Their son, Kareem, was born in 1976. In 1977, the year of Jabbar's divorce, he met Cheryl Pistono, and she later gave birth to their son Amir. A second daughter, Sultana, was born to Jabbar and Habiba in 1979, two years after their divorce. A third son, Adam, was born to Jabbar and an unnamed woman.
Although Jabbar's luxurious Bel-Air home was destroyed by a fire early in 1983, he found his faith in Islam and took a philosophical approach. In December of the year he published an autobiography, Giant Steps, with Peter Knobler. Jabbar's later memoir, Kareem, was written with Mignon McCarthy and published in 1990. This book documents his final season with the NBA.
Between 1979 and 1998 Jabbar made ten film appearances. Most of them were as himself, including his roles in Fletch and Forget Paris. He served as the executive producer of The Vernon Johns Story, a made-for-television movie about a civil rights pioneer.
Additional topics