Shaquille O'Neal Biography
Can't Stop Growing, Chronology, Nba Bound, Athletes And Music, Awards And AccomplishmentsCONTACT INFORMATION, SELECTED WRITINGS BY O'NEAL:
---
---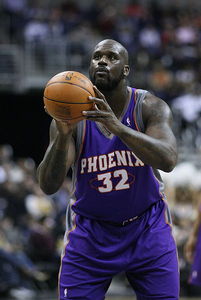 1972-
American basketball player
Shaquille O'Neal represents professional basketball in the third millennium. At seven-feet-one-inch tall and 335 pounds, he dominates a basketball court with little effort. His combination of size, strength, height, and speed is rare. His hulking presence is distinctive and unmistakable even among his peers, the so-called big men of basketball. A giant of a man, he put a new slant on the celebrity status of living large, when as a 19-year-old draft pick in the National Basketball Association (NBA) he signed the largest rookie contract in the history of professional basketball. Yet without spending a dime of his NBA salary, he embarked on a luxurious lifestyle funded exclusively from endorsement contracts and personal ventures. O'Neal, who moonlights as a recording artist, movie star, and television director, is an Olympic gold medallist and on multiple occasions a most valuable player (MVP) honoree. By his eleventh year in the league he was sporting three NBA championship rings. Off the court he is known to flash an ear-to-ear grin and to emote the unflappable personality of a 12-year-old boy.
---
---
Shaquille O'Neal
Shaquille Rashaun O'Neal was born in Newark, New Jersey, on March 6, 1972. He weighed an unremarkable 7-pounds-13-ounces and was named for an Islamic phrase that means "Little Warrior." His parents, Lucille O'Neal and Joe Toney, never married. Toney, who was a student at Seton Hall University at the time of O'Neal's birth, parted ways with his new family soon afterward. O'Neal then lived with his mother at the residence of his grandmother, Odessa Chamblis, at 100 Oak Street in Jersey City. As the three generations lived together, Chamblis worked as a nurse, and her daughter worked at city hall.
When O'Neal was two years old his mother married Philip Harrison, a sergeant in the U.S. Army. The new Harrison family bonded firmly. With O'Neal as the eldest sibling, Harrison's daughters Ayesha and Lateefa became step-sisters to O'Neal; a younger brother, Jamal was born later to the Harrisons. The family moved often, going from Newark to Bayonne when O'Neal was only five, then on to Eatontown. He was in the fifth grade when they arrived at Ft. Stewart, California. When he was in junior high school the family moved overseas, to Europe. After a brief stay in Wiesbaden, Germany, they spent a few years in Wildflecken.
CONTACT INFORMATION
Address: Agent: c/o Leonard Armato, William Morris Agency, 151 South El Camino Dr., Beverly Hills, CA 90212-2775. Phone: (310) 859-4000. Address: c/o Staples Center, 1111 South Figueroa, St, Los Angeles, CA 90015. Phone: (213) 742-7333. Address: c/o Office, LA Lakers, 3900 W Manchester Blvd, Inglewood, CA, 90305-2200.
SELECTED WRITINGS BY O'NEAL:
(With Jack McCallum) Shaq Attack, New York: Hyperion Press, 1993.
Shaq and the Beanstalk and Other Very Tall Tales, New York: Scholastic, 1999.
Shaq Talks Back, New York: St. Martin's Press, 2001.
Additional topics