Isiah Thomas
Grew Up In Grinding Poverty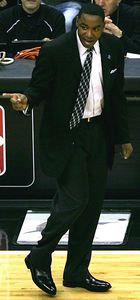 Isiah Thomas
Thomas grew up in the gritty ghetto of Chicago's West Side, where his mother ran the youth center at Our Lady of Sorrows Catholic Church. Because he was the youngest, Thomas's six brothers and two sisters called him "Junior."
Thomas's father worked at International Harvester, where he became the company's first African-American supervisor. Later, when the plant closed and he could only find work as a janitor, he became depressed and left the family.
Mary Thomas struggled to provide for her large family. The fridge was often bare, leaving the Thomas children to scrounge for food. In his book The Fundamentals: Eight Plays for Winning the Games of Business and Life, Thomas recalled that he spent his childhood trolling the streets with an empty belly, looking for loose change or fast-food wrappers with scraps of cheese still stuck inside. He shined shoes to earn money for food, then hoped he could make it home without being robbed.
As Thomas wrote in the book, "My earliest dreams were not-as you might imagine-fantasies of playing professional basketball…. My boyhood dreams were mostly about well-stocked refrigerators: huge refrigerators that were bursting at the hinges with mouth-watering roast chickens, heaping plates of spaghetti, and thick juicy steaks."
While Thomas's stomach may have been empty, his basketball skills were abundant and sprouted early on. When his older brother Larry played in a Catholic youth league, three-year-old Thomas provided the half-time entertainment. He'd slip on a jersey, which fit like a tent, then dribble around the court imitating the moves he'd seen. Just three, Thomas could already please a crowd.
Growing up, Thomas spent his days at a West Side pocket park playing basketball on the pockmarked courts. Thomas's brother, Lord Henry, was one of the neighborhood stars, and Thomas learned a lot of plays from him. For Thomas, going to the court became a way to block out the hunger, violence, and dangers that gnawed at him off the court.
In time, Thomas realized that his basketball skills might be his family's salvation-a way to drag his mother and siblings out of grinding poverty and into a safer neighborhood. The Thomas clan had been waiting for one of the boys to get a break, perhaps join the NBA. Thomas's brother Larry had been invited to try out for the Chicago Bulls but missed the chance by spraining his ankle. He then turned to the streets. Another brother, Lord Henry, lost his athletic potential to drugs. Now, it was up to Thomas to succeed. Thomas' brother, Larry, wanted to ensure Thomas' success, so he took him to the court day after day and drilled him on the fundamentals, all the while encouraging Thomas to stay out of trouble and shoot for his dreams.
As an eighth-grader, Thomas tore up the basketball courts. He impressed area coach Gene Pingatore so much that Pingatore secured financial aid for Thomas to attend St. Joseph High School, where Pingatore coached.
For Thomas, the move to the suburban, all-boy, nearly all white school was tough. Just getting there was an ordeal. To get to the Westchester, Illinois, school, Thomas rose at 5:30 a.m. for a one-and-a-half hour bus ride, which concluded with a long walk to the school's front door. Thomas knew the sacrifice was worth it if it would get his basketball skills noticed.
On the court, he regularly scored forty points a game. During his junior and senior seasons, Thomas led the St. Joseph Chargers to a 57-5 record, along with a disheartening second-place finish in the 1977-1978 Illinois state high school championship tournament.
Additional topics