Isiah Thomas
A Mother's Courage: The Mary Thomas Story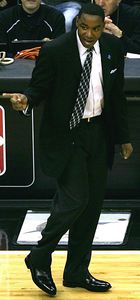 Isiah Thomas's mother's life story was dramatized in a 1989 NBC-TV movie starring Alfre Woodard in the title role. The movie showed how the single mother worked to free her children from poverty as they came of age on the crime-riddled streets of Chicago's West Side. For the most part, Mary Thomas kept her children on the straight and narrow, making up with love what she lacked in money.
The movie depicts many telling events from Isiah Thomas' life, including the time Mary Thomas went to Mayor Richard Daley to complain that case workers wanted to move her family into a violence-plagued housing project-and she wasn't going to go. The movie also told about the time a gang showed up on the family's doorstep eager to recruit the Thomas boys. Mary Thomas, however, pointed her shotgun at them and threatened to blow them across the expressway. She explained that there was only one gang in that house, the Thomas gang.
The movie, and Mary Thomas' life, served as an inspiration to other mothers facing the same prospects she did. Originally broadcast as a "Magical World of Disney" Sunday night feature, the movie won an Emmy for Outstanding Children's Prime Time Program.
Throughout his life, Isiah Thomas always gave his mother credit for his success, and the movie shows why.
Additional topics