Meadowlark Lemon Biography
Inspired By Globetrotters As Child, Excelled At Football, Basketball, Chronology, Tries Out For GlobetrottersCONTACT INFORMATION, SELECTED WRITINGS BY LEMON:
---
---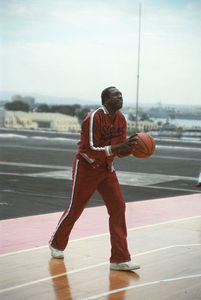 1932-
American basketball player
Like a crazed captain at the helm of a ship, Meadowlark Lemon could take over a court and steer a crowd into the throes of laughter. During his 23 seasons with the Harlem Globetrotters, Lemon proved he was more than just a basketball player. Full of wisecracks and wise moves, Lemon became the "Clown Prince of Basketball," and night after night, year after year, he used his laughter-coaxing charisma to charm fans around the globe. In his career with the Globetrotters, Lemon played in more than 7,500 consecutive games and logged more than four million miles, charming audiences in more than 100 countries, from Algeria to Zimbabwe.
---
---
Los Angeles Times sportswriter Jim Murray once called Lemon "an American institution whose uniform should hang alongside the Spirit of St. Louis and the Gemini Space Capsule in the halls of the Smithsonian Institute."
Though more than 20 years have passed since Lemon was a staple in the Globetrotters' lineup, he remains the team's most well-known name and is better known than even the team's current stars.
CONTACT INFORMATION
Address: (care of Meadowlark Lemon Ministries) 13610N. Scottsdale Road, Ste. 10267, Scottsdale, AZ 85254. Phone: (480) 951-0030. Email: info@meadowlarklemon foundation.org. Online: http://www.meadowlarklemon.org.
SELECTED WRITINGS BY LEMON:
(With Jerry B. Jenkins) Meadowlark. Nashville: Thomas Nelson Publishers, 1987.
Additional topics