John Madden Biography
Played College Football, Began Coaching Career, Became Professional Coach, Chronology, Awards And AccomplishmentsDrafted by the Eagles, CONTACT INFORMATION
---
---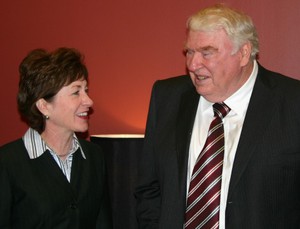 John Madden
1936-
American football coach
Although John Madden became known as a great analyst and broadcaster for NFL (National Football League) games on the CBS (Columbia Broadcasting System), Fox, and ABC (American Broadcasting Companies), he began his career as a coach for the AFL (American Football League; later NFL) Oakland Raiders. Madden was a well-respected coach of the Raiders for ten years, winning the Super Bowl in 1977. He was the youngest NFL coach to win a Super Bowl. Madden capitalized on his celebrity by appearing in a number of commercials over the years. He was also known for his famous bus that he traveled in when he refused to fly in 1979.
---
---
Madden was born on April 10, 1936, in Austin, Minnesota, the son of Earl and Mary (O'Flaherty) Madden. Madden's father was an auto mechanic who wanted a better life for his family. To that end, he moved them to Daly City, California, in 1942 to get a better job.
Growing up in Daly City, Madden's father encouraged his son's interest in sports. Madden played football, as well as basketball and baseball at Jefferson High School. However, much of his equipment was from castoffs. One job that Madden had in high school was as a golf caddy at the San Francisco Golf Club. It was there that he got the idea that successful people often went to college, and decided that he would be the first person in his family to attend.
Drafted by the Eagles
In 1958, Madden was drafted by the Philadelphia Eagles in the 21st round. His one season as a professional player ended when he suffered a knee injury at training camp in 1959.
CONTACT INFORMATION
Address: c/o 1 West 72nd St., New York, NY 10023. Online: allmadden.com.
Additional topics